For 91 Days
we lived in Busan, the second-largest city in South Korea. This sprawling, exhilarating metropolis of 2,000,000 people has somehow managed to remain relatively unknown, despite having so many things to see and do. We had a wonderful time discovering Busan's cuisine, culture, history and beaches. Start reading
at the beginning
of our adventures, visit our
comprehensive index
to find something specific, or read one of the articles selected at random, below: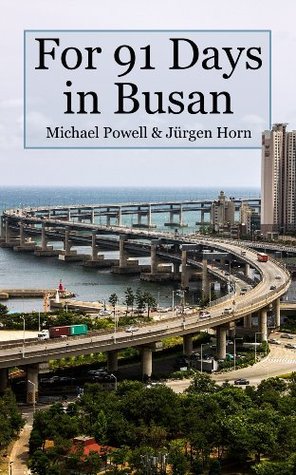 Our 91 days in Busan flew by, but we managed to see almost everything this incredible city has to offer — the museums, the people, cafés, hiking, beaches, and of course the food! All of our experiences and observations are now collected in a portable e-book, perfect for Kindle, Nook or any other eReader. The book contains over 200 full-color images and nearly 100 articles about South Korea's second city, along with a useful index organized by both date and category. For just $7.99, this makes a great companion for your trip to Busan, whether you're a teacher or a tourist.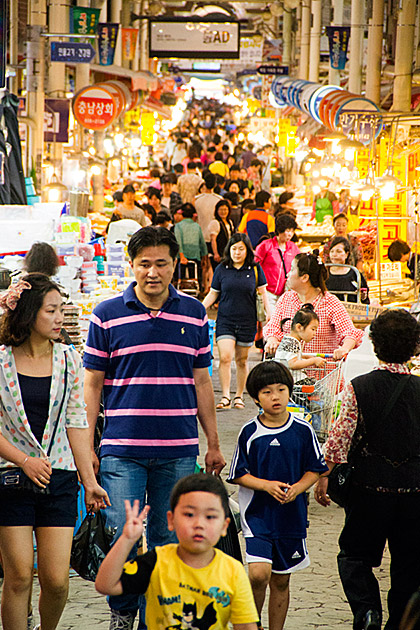 The largest market in Busan, and almost definitely the biggest I've ever visited anywhere, is in the central neighborhood of Bujeon. Calling it a market town is no mere hyperbole — just the covered portion comprises a full grid of streets and alleys, and you can easily get lost in its chaotic, densely crowded streets.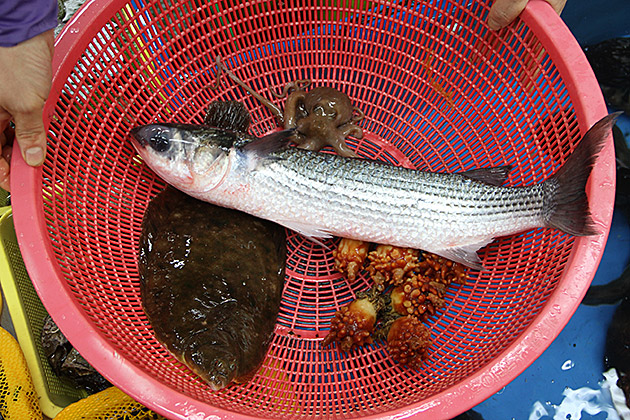 Do you remember that one scene in Oldboy? The scene which, after you watched it, you never forgot and needed therapy to recover from? You know, that scene, the one where Oh Dae-Su eats a living octopus? Well, our lunch at the Millak Raw Fish Market brought me as close to the experience of being Oldboy as I ever need to get.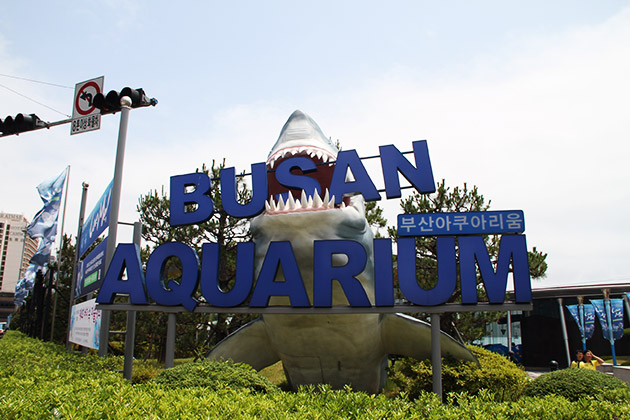 Turns out that Busan is the kind of city which can have a giant mountain right in its center, topped by an ancient fortress, accessible by cable car… and it's not a big deal. We were shocked when we learned of the cable car up Mt. Geumjeongsanseong, and Busan was all "Oh yeah, that. I forgot about that." It doesn't even appear in the various "must-do" lists we've read for Busan, while in most other cities it would be the top highlight!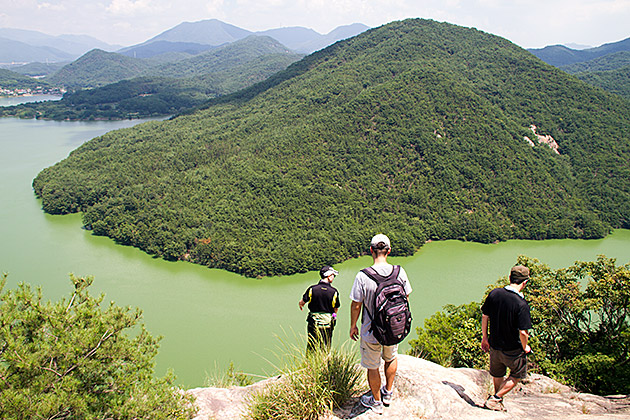 We've done a lot of hiking and hill-walking during our time in Busan, but until our trip out to Hoedong Lake, we hadn't actually experienced a truly Korean day of hiking. This was the last big excursion we'd be undertaking in Busan, and we couldn't have hoped for a more authentic day out.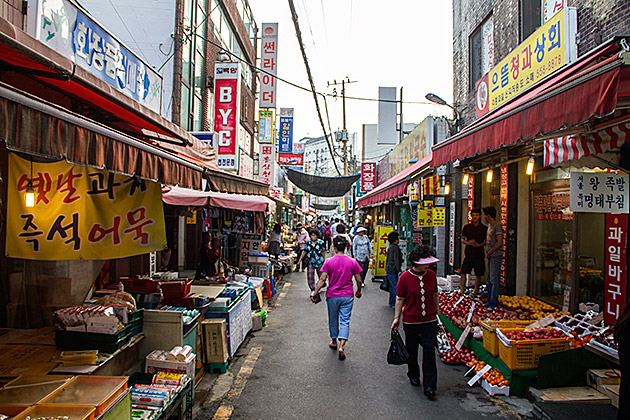 We hadn't expected to have such a great day out in the northern neighborhood of Oncheon-dong. After discovering a popular open-air foot spa, we walked back toward the subway through a boisterous food and goods market. Maybe it's the collegial atmosphere generated by the closeness of the stands, but people working in these markets always seem to be happier than their counterparts behind the cash register of a grocery store.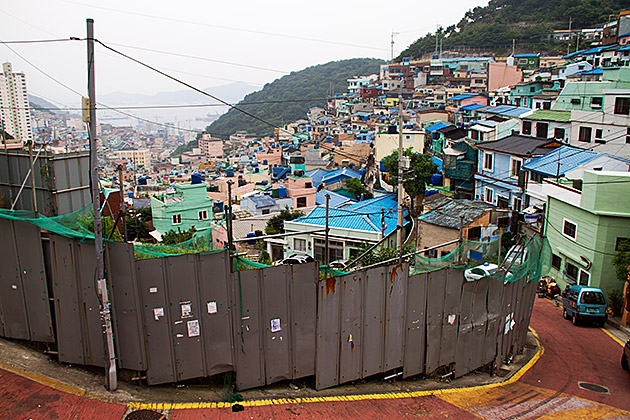 A trip to the Gamcheon Culture Village was one of the stranger excursions we've undertaken during our time in South Korea. This neighborhood in the west of Busan has dedicated itself to art, with murals, sculptures and installations that occupy entire houses. Visitors are taken on a tour which snakes through narrow alleys and ends at an observation deck with an amazing view over the city.