The Complete Peanuts Collections
During our initial exploration of the Pusan National University neighborhood in the north of Busan, we happened upon a strange cultural landmark: the Charlie Brown Cafe. Dedicated to all things Peanuts, this coffee house provides stressed-out college kids the chance to escape into a simpler world.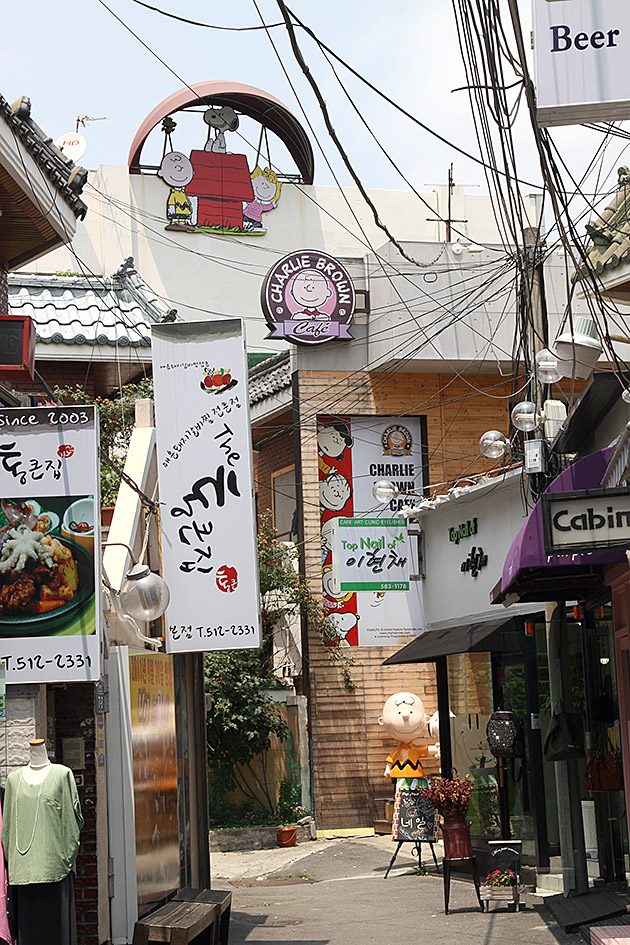 Personally, I've never understood the appeal of Peanuts. The comic strips are uniformly unfunny and poorly drawn. Yes, I said it! Charles Schulz must be the among the most overrated cartoonists of all time. Charlie Brown looks just like Linus, who looks just like Sally, but with different hair. If you've read four or five of the comics, you understand everything there is to know about all the characters.
Also, I always found Franklin really awkward. I mean, each character has a single trait: Peppermint Patty is a tomboy, Linus is insecure, Lucy is a bully and Franklin… well, Franklin is black. And I don't consider Charlie Brown a "lovable loser" at all. Watch him fall for Lucy's football trick enough times, and you start to realize that there's nothing lovable about him. He's just a loser. Grow some balls, Charlie Brown. That should be the title of the next animated special.
But even I, a virulent Peanuts-hater, couldn't help but be charmed by the Charlie Brown Cafe. My cappuccino was served with Snoopy-shaped cinnamon (don't even get me started on the claim that Snoopy is a "beagle"!), matching the powdered sugar on the brownie. Everything… from the cups, plates and chairs are Peanuts-based; we sat at the Linus table, and fetched our coffee when our Peppermint Patty buzzer rang.
If you're in the area of PNU and could benefit from a world of pure innocence, then definitely check out the Charlie Brown Cafe.
–Our Visit To The Puppy Café in Busan